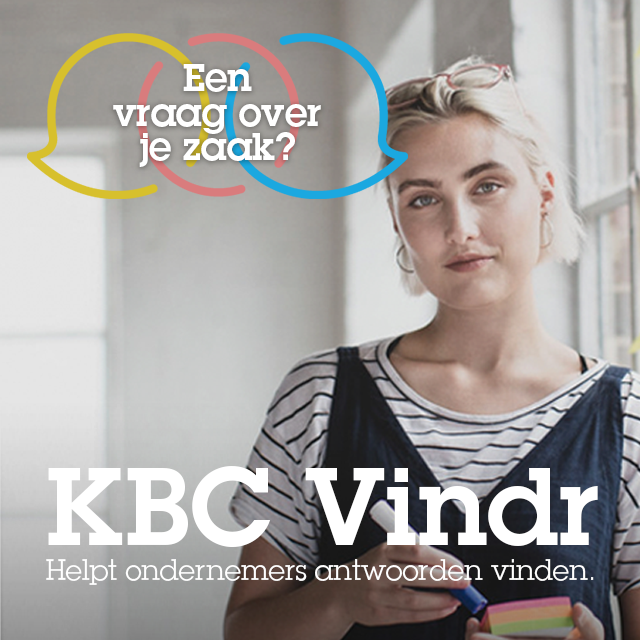 Imagine one platform where you as an entrepreneur can ask all your questions. Sounds good, doesn't it? That's why KBC developed the online platform Vindr. Here you can ask questions about entrepreneurship, but you can also show your expertise by answering questions.
Every day, as an entrepreneur you face new challenges to which you do not always have a solution. KBC identified the need for a sounding board and therefore developed the online tool KBC Vindr - a platform where Flemish and Brussels entrepreneurs can ask questions about various subjects.
Expertise galore
Having a network to fall back on is useful. And if that network can be found in one and the same place, how much better can it get? Through Vindr, you ask all your pressing questions and test your most outlandish ideas with other entrepreneurs.
Do you have questions about entrepreneurship, is your webshop acting weirdly or do you want to discuss another urgent issue? On KBC Vindr you can easily browse through the topics that are relevant to you. You can go there with any issue you encounter as an entrepreneur.
You will certainly meet complementary people in the field of entrepreneurship. Perhaps you will even find the perfect business partner that you have been seeking for so long. This is how new collaborations arise on KBC Vindr: you use Vindr not only to ask questions, but also to put your own expertise in the spotlight.
How does Vindr work?
You do not have to be a KBC customer to register on Vindr. The platform is free and accessible for every entrepreneur. Simply go to vindr.kbc.be and register today. After registration you will have direct access to the platform.
You can follow topics that interest you, from climate change and energy to talent and staff. Personalise your feed for an optimal experience. In the search bar you can search for questions related to your business, allowing you to immediately help people and generate new customers.
To start a dialogue, you can post a question or challenge yourself. If you give a clear description of the issue, you will quickly get a clear answer so you can move on. Your business is guaranteed to get a boost - for example, you might be an electrician who is looking for a partnership in subcontracting, or a start-up that wants to acquire customers in a strategic way. Questions are free of charge!
Have you come across an interesting profile that could be a match for your company? Then you can send thema message and check what the possibilities might be.

Join this big business platform today
More than 2,000 entrepreneurs have already joined KBC Vindr. That's 2,000 colleagues who can inspire you and help you to realise your dream. What are you still waiting for?